Types of Wood Used for Wood Fencing
You can use a few different types of wood for wood fencing. Pine and fir are common choices, and both are widely used for fences and other types of fencing. Pinewood has a light, creamy color and is easier to work with than most other types of wood. Pine also has prominent knots and grains, which give it a unique look.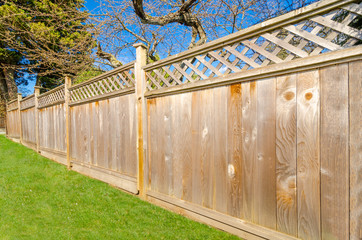 Proper maintenance is essential for your wood fence to last as long as possible. Fencing can be an excellent choice if you want to create privacy. However, if you're worried about insect infestations, consider pressure-treated lumber or other insect-repellant treatments. You can also check on the insect-resistant qualities of various wood varieties.
Typically, wooden fences are available in pre-assembled panels, but you can also buy different parts separately. For example, if you move in the next few years, you may not need an extremely durable wood fence. Pressure-treated wood is another option, adding added resistance to rot and mildew.
Depending on how well the wood is installed and how well it is maintained, a wooden fence can last anywhere from 10 to 30 years. But this can vary greatly, depending on factors like installation quality, maintenance, and the type of wood used. For best results, work with a fence company that can help you choose the right wood and install it correctly. Typically, wood used for fencing is pine, because it is relatively inexpensive and doesn't shrink or warp, making it ideal for fencing.
Cypress is another option that is a good choice for wood fencing. It is rot-resistant and naturally contains creatine, which is an insect repellent. Cypress wood also lasts longer than other woods. However, cypress is relatively expensive and may have to be shipped to the home.
The type of wood you choose will depend on the climate in your area. Consider what kind of climate your area has to ensure that your fence will last a long time. For example, untreated wood can be vulnerable to termites, so choose wood with appropriate wood-treating treatment. You can also opt for pressure-treated wood to protect your fence.
Redwood is another great option for fencing. Although this type of wood may be more expensive than other options, it's an attractive choice and resistant to rot and insects. You can treat redwood with stain to retain its beauty and enhance its resistance to pests. Redwood fences can be vulnerable to rot, freezing, and thawing conditions, but if you use a quality stain, redwood fences can withstand these conditions and last for many years.
Choosing the right type of wood for your fence will depend on your budget and the climate in your area. If you're looking to save money and maintain the aesthetic appearance of your yard for many years to come, then choosing the most durable wood is a wise decision. Wood is easy to work with and is a great choice for fences. You can stain it or paint it if you'd like. Wood also lasts for years and is great for pets!
Wooden fences have been around for centuries and can be found throughout many cultures. Their popularity is due to their strength, longevity, and aesthetic appeal. They have stood the test of time for centuries and still provide the same security today as they did back then. Here are some reasons why you should consider building a wooden fence for your home or business.
Wooden fences are a classic choice and an incredibly popular option for fencing. Wood is an attractive wood that is durable for both indoor and outdoor use. If you need to fence a large space, such as a yard, a wooden fence is a perfect option for large open spaces since they can be built into an arbor. This type of arbor is installed with rails so that there is less of a visible fence while providing adequate fencing for your desired function.