Stucco Repair – How to Inspect and Repair Stucco
Stucco is a cement-based mortar mix used for centuries to build walls. It's a durable material that resists mold and mildew. Inspecting your stucco regularly is important to catch small problems before they become larger and more expensive. This will help prevent any further damage to your home.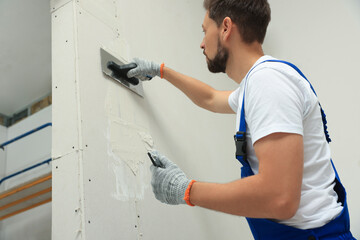 Stucco Repair Philadelphia will first inspect the damaged area to identify the cause of the damage and determine the appropriate repair method. The repair process may involve removing any loose or damaged stucco, applying a new layer of stucco, and matching the texture and color of the surrounding area to create a seamless finish.
One of the best ways to protect your stucco is to inspect it regularly. Look for cracks, chips, or sections that are pulling apart and allowing moisture into the wall.
Check around windows, doors, vents, and electrical outlets. These are all areas where water can get trapped and cause rot.
Another sign that stucco is in need of repair is a rotting smell. This smell is caused by moisture trapped behind the stucco, and it is different than the healthy smell that a home has without any damage.
If you notice any of these signs, call a local stucco company to stop by and have a look. They can help you catch problems early and save money on repairs in the long run.
Stucco is a durable and energy-efficient material, but it can also be damaged by weather or improper installation. If you're buying a new house or repairing your existing home, be sure to choose a professional inspector who has a specialty in stucco inspections.
If your stucco has cracks, holes, or other surface-level damage, it's a good idea to repair it. However, this can lead to problems down the road if it doesn't fix the underlying issues that caused the problem.
Stucco remediation is an extensive process that aims to fix any underlying structural issues your home has that may be leading to damage in the first place. It is a much more thorough and expensive service than stucco repair, but it is also worth paying for because it will prevent the damage from recurring and causing further problems.
Remediation requires a professional stucco expert to assess the damage and make recommendations for what needs to be done. They will usually start by doing an inspection of your property and using moisture meters and thermal imaging to detect any underlying issues that are causing the damage in the first place.
Stucco is a cement-based siding material that's been used for centuries to protect the exterior of buildings. The mix of cement, water, sand, and lime is easy to make on your own, or buy ready-made from a home improvement store.
But stucco does wear down over time. Hairline cracks ( 1/4″) are common and can be mended by an exterior latex paintable caulking.
However, if you have larger cracks or holes, they may indicate a bigger problem that requires the services of a professional.
The best way to determine if you need to repair your stucco is to have a qualified professional inspect it. They will check the entire system to look for signs of moisture intrusion.
If there are no underlying issues, then a simple repair will be all that's needed. This is a good option for any homeowner looking to save money and get the job done quickly and easily.
Stucco is a popular exterior surface, but it's also prone to damage and needs occasional repair. It's possible to tackle small cracks on your own, but you should always hire an expert for larger repairs.
Larger problems with stucco can be a sign of water damage, pest infestation, or rot, so it's best to contact a professional for help. These issues can lead to costly repairs down the road and a loss of property value.
If you don't have the time or expertise to do it yourself, a stucco contractor can repair hairline cracks and fill larger holes. He can also prime the area and smooth out any roughness.
To do this, spread a thin layer of specialized stucco patching material into the hole. Use a rubber float to press the material into place and continue applying the patching until it's flush with the existing surface.
Once the patching material is set, apply a coat of one-coat stucco to finish it. Then, use a mason's metal float to blend the patch into the surrounding texture and smooth the area.